Rigid Edge Trim
Buy Rigid Edge Trim
| | | | | |
| --- | --- | --- | --- | --- |
| Colour | Length | Cost | Quantity | |
| Black | 80cm | £5.54 | | |
| White | 80cm | £5.54 | | |
| Red | 80cm | £5.54 | | |
| Blue | 80cm | £5.54 | | |
| Yellow | 80cm | £5.54 | | |
| Black | 244cm | £12.06 | | |
| White | 244cm | £12.06 | | |
| Red | 244cm | £12.06 | | |
| Blue | 244cm | £12.06 | | |
| Yellow | 244cm | £12.06 | | |
Our rigid mesh trim is available in 80cm or 244cm lengths and coloured white, black, red, blue or yellow. Buying multiple quantities will result multiple 80cm or 244cm strips.
Rigid pvc (uPVC) trim is easy to work with and bonds reasonably well with suitable glues, such as pvc solvent cement, for the strongest butt joints it is recommended to use fusion welding which can be achieved at home with an electric hob and a little practise. Or if you tell us your design, we can build it for you. Although you can cut with various tools, it is recommended to use a fine tooth saw to obtain a perfectly straight cut.
This material will grip any size of mesh, but for more demanding applications it may require gluing to the mesh, there are many glues available to bond stainless steel to uPVC, cyanoacrylate (superglue) is one example that works well.
Rigid trim can be used to cover sharp mesh edges on straight sections as well as provide support the the item, it can be used effectively with any of our mesh sizes from 4 mesh right up to 400 mesh. This is also the same profile as binder bar, used to bind paper together, we can cut and finish to A5, A4, A3, A2 A1, A0 or any custom size up to 2.4m.
Specifications
The material uPVC, cross section shown below, supplied material may have up 3% extra length, never less (standard cutting tolerance), can be cut to tight tolerance by arrangement. 80cm strips will be sent flat, larger lengths will sent as 45cm diameter coils. Please note we can not ship 244cm lengths overseas.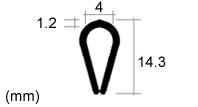 Product Identifiers
Black 80cm:
0029882793862,
White 80cm:
0029882793879,
Red 80cm:
0029882793886,
Blue 80cm:
0029882793893,
Yellow 80cm:
0029882793909,
Black 244cm:
0029882793916,
White 244cm:
0029882793923,
Red 244cm:
0029882793930,
Blue 244cm:
0029882793947,
Yellow 244cm:
0029882793954,