Flexible Edge Trim
Buy Flexible Edge Trim
| | | | |
| --- | --- | --- | --- |
| Option | Cost | Quantity | |
| 1m (Black) | £3.99 | | |
| 1m (White) | £3.99 | | |
| 1m (Brown) | £3.99 | | |
Flexible pvc trim is easy to work with and bonds well with most glues suitable for plastic, especially pvc solvent cement. Although you can cut with scissors, it is recommended to use a knife to obtain a perfectly straight cut. Be careful trying to get a clean cut when removing <4mm from the end, when removing very small amount the plastic will flex and give a poor cut.
This material is flexible and will not hold itself in place in every application and may require gluing, there are many glues available to bond stainless steel to pvc, cyanoacrylate (superglue) is one example that works well. If you can not get the mesh round a very tight radius, it can be heated up to make more flexible or mitred into a sharp angle change.
Flexible trim can be used to cover sharp mesh edges on straight sections as well as internal and external curves, it can be used effectively with any of our mesh sizes from 4 mesh right up to 400 mesh, be aware that the trim is flexible, but will tend to straighten out, so wire reinforcement may be required with very fine mesh.
Specification
The material is flexible white, black or brown pvc. Multiple quantities will be supplied as a continuous length. Cross section shown below.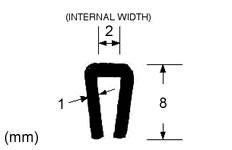 Product Identifiers
1m (Black):
0029882790458,
1m (White):
0029882793589,
1m (Brown):
0029882793855,