Round basket
Inoxia can manufacture your round mesh basket to your specification, including any custom requirements.
Specifications
Mesh
2 - 500 mesh
Diameter
25mm - 1220mm with larger sizes possible by special order and smaller size with alternative framing.
Height
Any basket depth can be catered for, for exceptionally deep baskets, there may be an additional seam weld.
Frame
4mm and 6mm stainless steel rod is stocked and can be rolled into a ring (+/-2mm) and seam welded to any of our stainless steel meshes. The ends of the rods are welded together to create a strong, solid ring. Other diameter rods, square, hex or flat bar can also be used for the perimeter, but are not held in stock.
Frame configurations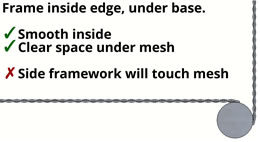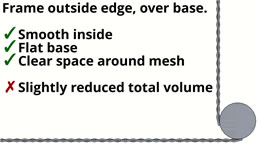 Quantity
Orders for single quantity requirement are welcome, significant price breaks are offered for multiple unit orders, or sets, of the same size, but different mesh counts.
Special requirements
We are always happy to take on special requirements, previous jobs include semi-circular filters, cones, precision tolerance and additional framework.